Greetings Manatee Gun & Archery Club Members!
First off, we hope your year is off to a great start and if you haven't figured out plans for Valentine's Day weekend yet, we hope you'll consider bringing your significant other out to the club. On Saturday, there will be a 3-Gun Match. On Sunday, there will be an IR 50 Match, 4-H Shoot and 5-Stand Shotgun match. If your curious about other upcoming events, please check our calendar out here.
In January, the club conducted a member survey. The survey was sent out to the 536 email addresses. Of those, it was delivered to 479 of you. Of that, 202 people opened the email. This probably means that some of you did not receive this email for a few reasons: the email address we have on file for you may be incorrect or it may have been directed to your spam folder. If it is going to your spam folder, please check your settings and mark that our emails are not spam.
Overall, the survey response was highly successful. Usually, a survey like this would generate somewhere around a 10-15 percent response rate. This survey had a 31 percent response rate. So, without further ado, we would like to thank everyone who participated in the 2016 Member Survey.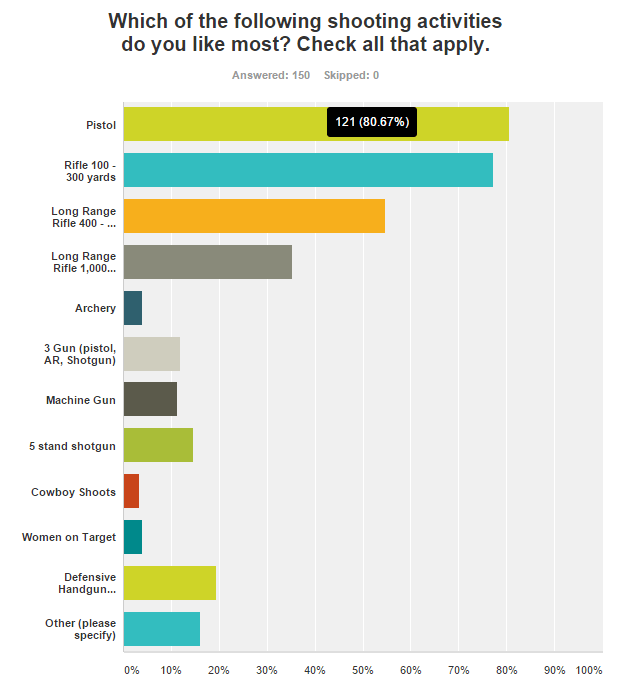 A total of 150 Manatee Gun & Archery Club members responded to the poll and gave us their input on a number of subjects. These responses provide critical insight into many different aspects of the club and will allow the board to make changes that members want most.
Members who responded to the survey were overwhelmingly male at just over 97 percent and included members from age 25 and up.
When asked which shooting activities they like most, an overwhelming majority of those that took the survey preferred pistol and rifle (100-300 yds.).
Other top answers included long range rifle (400-600 yds.), long range rifle (1,000 yds.), defensive handgun instruction, 5 stand shotgun, and 3 gun.
When asked which competitions they are most interested in at the club, many members strongly preferred pistol and benchrest competitions.
Other competition types such as 3 Gun, F-class, Dirty Bird and Sporting Clays were also well liked by respondents. Out of the 150 members that took the survey 37 chose to skip this question and likely have no interest in competitions.
The survey also asked members to share what changes they would like to see made at the club. We received a wide range of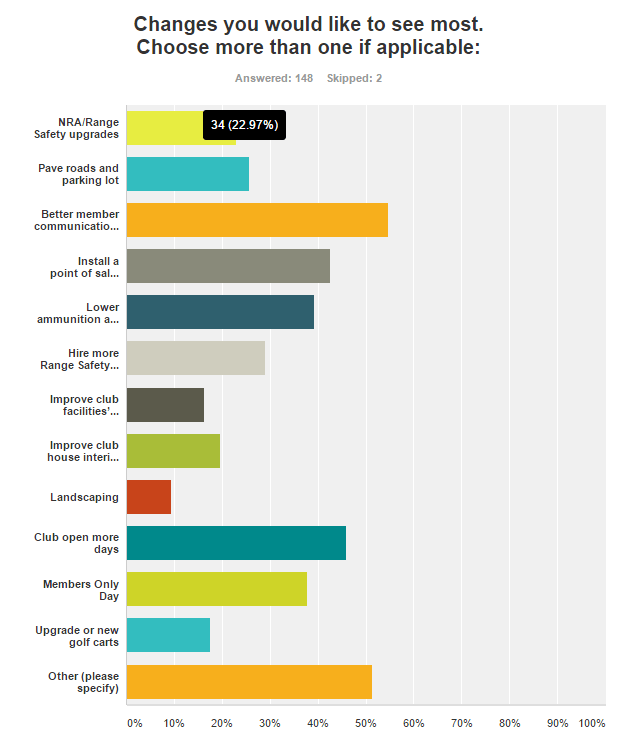 answers, with the most common request being better member communication about what is happening at the club via newsletters.
The board is taking the steps needed to improve communications for members and will be continue sending monthly newsletters to club members. A large sum of participants in the survey also requested the following changes, the club opening on additional days, installation of a new point of sale system, lower ammunition prices and paving of the club's roads and parking lots.
The club will be using these suggestions as a basis for improvements in the coming months and we hope that members enjoy the new changes as they are made.
Lastly, if you know another member who is not receiving these newsletters, please forward this email to them and have them sign up for the newsletter by clicking here.