Message From The President
Thanks to new members and new shooters who have found our range.
Thanks to our faithful and loyal shooters for their continued support.
Thanks to  all the volunteer help that goes on "behind the scenes" in tidying up the clubhouse, grounds, and keeping the vehicles running; also making frames for the target stands and many other jobs the range Officers do in idle times. When we are slow these R/O's  put in more than their share.
Thanks to those who selflessly put on the many matches that draw new shooters;
Women on Target continues to be a valuable Club program – We appreciate the board members for their volunteer time in executing their duties.
The POS system has been an on-going learning process and strides have been made and we look forward to utilizing other features that the system provides. Our new CPA Laura is coming out with Bruce Gallaway, our banker with BB&T,  to get our inventory in the system.
I want to personally thank Bill Mark who for 7 years has been helping with deposits to the bank without any compensation and Jackie the membership secretary and Treasurer  started back in 2007 ( or earlier )  without any compensation . It's people like ALL of these folk that make YOUR club what it is today and most of all it is YOU the members that make a great club.
Thanks,
Vince Vingelli  (President)
" THANKS FOR MAKING THIS CLUB WHAT IT IS TODAY "
---
RANGE REPORT
by Mickey Mikulis 
Once again the weather elements have impeded progress for 600 yard benchrest final work, as well as pending berm improvements throughout the range.  1000 yard gongs are maintained only by access with Mickey's ATV as water, soft sand and mud prevent golf cart access.  We know drier weather has to be just around the corner!
New range signs, as well as previous signage, are maintained and visible to all shooters.
The main line and benchrest overhead, once covered with mold, have been pressure washed and disinfectant was applied.
Target stands are constantly maintained with Jack Scott, Lou Delmonico and Mickey recovering as needed.
With new and previous visitors' helpful process of cleaning up after themselves, the daily positive feedback from them as well as club members has been progressive in word spreading what a unique range, website and activities that are available to all.
Safety is paramount in all activities, and only through concerted effort by all Range Officers, shooters have remarked with positive feedback about the operation of our range.
On behalf of the Range Officers and employees, I heartily thank you, our shooters, for adhering to the range rules and for supporting Manatee Gun and Archery Club.
---
2016 "GIT-IT-DONE" 5-STAND SHOTGUN NEWS
By Ron & Stephanie Unger, Sr.
The 5-Stand has been busy since January – even with all the rain we've had, attendance has exceeded last year's turn-out.  We have a 30% income increase over last year.
New names have been added to the "OMG – I Missed It By One" trophy and the "25 Straight" trophy now boasts three names; Steve Kawryga, Chuck Jelicks, and Ron Unger, Sr.  "Regulars" at the 5-Stand are constantly shooting multiple rounds in hopes of achieving scores that will result in adding their names to both trophies.
Twenty men and women have been participating in the Winchester/NRA Marksmanship Qualification Program.  Five of those have successfully achieved the title of "Distinguished Expert".  Congratulations go to Chuck Jelicks, Paul Kerns, Chris Michaels, Ron Unger, Sr. and his wife, Stephanie.  The program is ongoing and new shooters are encouraged to participate.  There is no additional charge for shooting each level of the program; Stephanie keeps all the records and notifies the NRA when Distinguished Expert status is achieved.
Though there haven't been any singular matches held this year, there is the ongoing "Top Shot" event that began in July and ends in December.  New shooters are welcome to join in this event even at this late date – the only requirement is an initial $7.00 fee and that a minimum of 30 rounds of 5-Stand must be shot by December 18th.  Each shooter receives an individual trophy just for participating in this event.  The 3' high "Top Shot" trophy will be presented to the 2016 Top Shot 5-Stand Shooter.
We are planning on having a lunch, hosted by Ron and Stephanie, and presenting the trophies on Sunday, January 8, 2017.
The shooting program at our Stand is changed monthly, and we now have a "true pair" of rabbits to shoot at!  Windy days present additional shooting challenges as the "crossers" and the outgoing and incoming clays wave up and down and wobble.
The fee to shoot a round of 5-Stand is just $6.00.  Range hours are Sundays, 9:00 AM to 2:00 PM.  We will stay open after 2:00 for as long as you want – or until you run out of money! – Just be sure you arrive at The Stand by 1:30 PM.  Groups can reserve The Stand on other range days by calling Ron or Stephanie at 941-747-6056.
If you haven't been to our "Git-It-Done" 5-Stand, we hope you will take the time and check us out. To our repeat shooters and regulars, we thank you for your loyal support!
SAFE TRAVELS ~ WE LOOK FORWARD TO SEEING YOU!
---
MORE DATES FOR 300 YD F-CLASS MATCHES THIS SEASON
This winter season will see a doubling of the number of 300 yd. F-Class matches from 3 to 6, with the addition of match dates in November, December and April.  These NRA Registered matches are held monthly on Sunday mornings on the Club's North Range.  Setup and registration begins at 8:00am and the match starts promptly at 9:00am.
Long time Match Director Tom Pampalone has retired from running the matches but will still participate and lend a helping hand to Dave Mommaerts (Director) and John McGowen, who have taken over responsibility for the matches.  Many thanks go to Tom for establishing these matches back in 2007 and running them successfully for the last 10 years.  During that time, F-Class has quickly become one of the fastest growing NRA competitions in the Country and the Club is proud to continue to provide a venue for area F-Class shooters.
A more complete description of the F-Class match rules can be found on the Club's website; match dates are as follows:
---
Mia
kka
Misfits
Travel back to the old west the first Sunday of each month and shoot with the Miakka Misfits, the local club for the Single Action Shooting Society (SASS).   Cowboy Action Shooting is a multi-faceted family shooting sport in which contestants compete with firearms typical of those used in the taming of the Old West: single action revolvers, pistol caliber lever action rifles, and old time shotguns. The shooting competition is staged in a unique, characterized, "Old West" style. It is a timed sport in which shooters compete for prestige on a course of different shooting stages.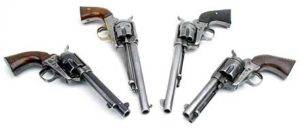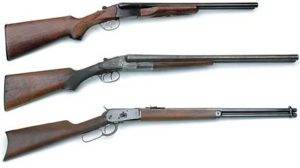 Each stage scenario, as they are called, features an array of situations, many based on famous incidents or movies scenes, in which the shooters must test their mettle against steel targets.
One of the unique aspects of SASS approved Cowboy Action Shooting is the requirement placed on costuming. Each participant is required to adopt a shooting alias name such as Dead Eye Jack or Pistol Packin Jessie, appropriate to a character or profession of the late 19th century, a Hollywood western star, or an appropriate character from fiction. Their costume is then developed accordingly.  It is as easy as getting a pair of jeans, western shirt and boots to be on your way.  Some shooters gain more enjoyment from the costuming aspect of our sport than from the shooting competition, itself. Regardless of a member's individual area of interest, SASS events provide regular opportunities for fellowship and fun with like-minded folks and families.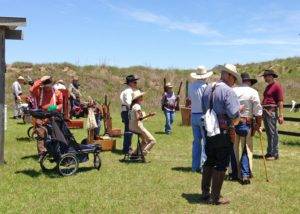 Safety is most important in Cowboy Action Shooting matches.  Safety glasses and hearing protection must be worn at all times. In a typical stage the shooter, who is next in line to compete, will load his guns at a loading table under the supervision of a designated loading official. Western-style "six-shooters" are always loaded with only five rounds with the empty chamber under the hammer. The shooter's rifle will also be loaded with the requisite number of rounds with the hammer down on an empty chamber. Shotguns are always left unloaded, then loaded "on the clock".
At a typical Cowboy Action range, ALL guns are kept unloaded except when the shooter prepares at the loading table, shoots the stage, then proceeds to the unloading table to unload the revolvers and prove that all guns are empty.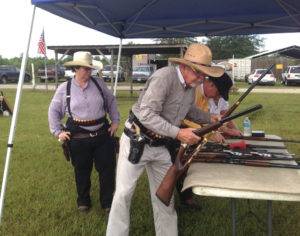 Even with empty guns, CAS emphasizes safety. Even with the theme of the wild west's cowboy attire, all shooters must wear safety glasses while on the firing line in addition to other important safety rules and more than some other shooting sports have. 
The Range Officer is responsible for safely conducting the shooter through the stage. The Range Officer's attention is not on the targets but rather on the shooter and his firearms. One important duty of the Range Officer is to immediately stop the shooter if the shooter's gun or ammunition is defective in any potentially unsafe way.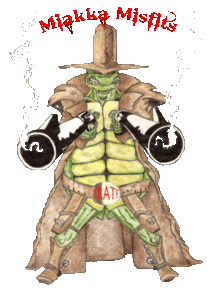 Please drop by our website (www.miakkamisfits.com) for more information, check out a video on our home page of our club and a match.   Once you get the hankering you can see the "Contact Us" page to give us a shout so you can come to our next match. 
Do not worry about guns or clothes when you first come.  Pards will let you try theirs so you can get the feel.  
Happy Trails!
Crossfire Brown, Territorial Governor