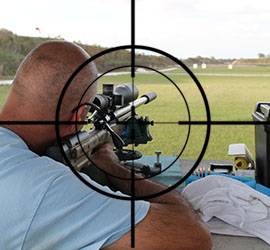 The 600-yard range has re-opened and many of our shooters have set their sights on it.  Here is the info you need to get ready, get qualified, and get to shooting.
Qualifying
The 600 will be open to both members and public shooters that successfully pass a qualification test. Shooters will be required to complete a 6″ group of five(5), no misses, on the bullseye of a 300-yard target. Shooters must use the rifle and scope that they plan to use on the 600-yard range. Qualification results must be viewed or approved by a Range Safety Officer.
Registering for the 600
Once qualified, the shooter will receive a card that will show they have completed qualification process. That card must be present in order to shoot on the 600.
The 600-yard range will be available on Thursdays, Fridays, and most Sundays. Competitions and tournament shoots will take place on Saturdays and the first Sunday of each month. Any questions or feedback regarding qualification for or use of the 600-yard range should be directed to our office staff either by phone at 941 322 0055 or email at manateegunclub@gmail.com.
Good luck!