The new news around Manatee is we are now offering a greater benchrest shooting experience for both members and non-members at Manatee Gun Club. Thanks to the cooperation of our new club officers, staff and some shooting volunteers, the side benchrest range is now open to our shooters.
For those unfamiliar with that range, it's located past the shotgun range on the way to Area 51 along the west side of our main range. This benchrest range used to be for 100 and 200 yard competition but has now been changed to a full 600 yard range with 16 covered benches like those on our main range. Next time you visit, ride back and take a look AFTER signing in at the main clubhouse – for liability reasons and to avoid a "scolding" from the office staff of course.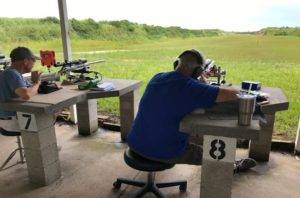 What is great about this range is we can now hold benchrest events on our terms with certified Range Safety Officers overseeing the operations. The main range can operate without our interference. They get more space over there and benchrest shooters gain a beautiful venue for long-range precision shooting. It's a win-win for all Manatee shooters.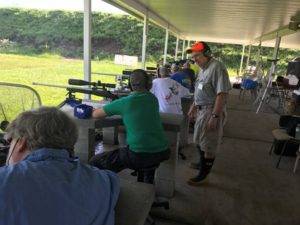 Our Manatee benchrest group is now offering three shoots a month. Still using the main range, we offer 1,000 yard gong shoots on the first Saturday of each month. Of course to do 1,000 yards we have to use the main range that offers 1,000 yard shooting. That will stay the same. Changes start the third Saturday. That's when we schedule the 600 yard gong shoots ("Shootin' Steel") on the back 600 yard benchrest range.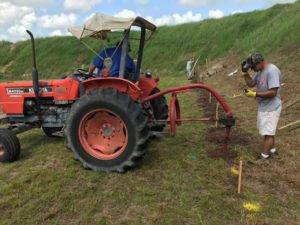 We built 8 swinging gong set-ups for our use only. No more 50 cal. destruction and we can actually leave them up all the time for practice opportunities. Some are larger 8" diameter gongs for you AR shooters that would like to compete against other rifles with that format. You AR shooters can now use those 223's, 6.5's, 308's or whatever against others doing the same in fun gong competition. The precision benchrest rifle gongs are 5" at 600 yards and 8" at the 1,000 yard range.
At the same time those wanting to try out their tactical and benchrest rifles, actually anything you would like to try no more than 30 cal, are welcome. You think your tactical gun can shoot against the benchrest rifles?
Sure it can. Come out and see how well it does work. All your talk should be backed up with action.
Want to try seeing how your rifle does on IBS (International Benchrest Shooters) targets? Do that on the fourth Saturday of each month. We are now holding IBS style club shoots on paper. See the targets…

…one for each bench at 602 yards. Note that the gongs are placed behind at the bank to minimize any ricochets getting off the range. The gongs are at 625 yards. Paper target supports are done with wood inserted into flush metal frames in the ground. There's minimal chance of ricochet with easy set-up and removal. Of course, your help is appreciated.
During gong matches – first and third Saturdays – you are asked to make a small donation, currently just $7. That allows us to pay for materials, updates, maintenance and give back to the winning shooters most if not all of it as prizes. During the paper matches we do the same but have to add just $3 more to help pay for targets and other equipment we need to provide you the shooting opportunity. The rest goes back to YOU, the shooter who just might win or place high into a payoff. It's fun first, education and experience always for our shooters.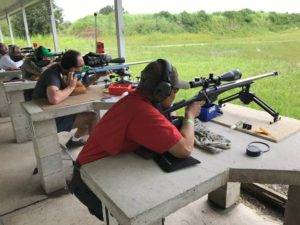 From the best shooting equipment and to your basic hunting, AR and tactical rifles, there's a benchrest opportunity for those interested. It costs little more than a club range fee. You get the opportunity to be around some of the finest shooters in the area and even some nationally-ranked shooters.
Check out the benchrest shooting opportunities at Manatee. The schedule right now is 1,000 yard gong on the main range – first Saturday of the month. 600 yard gong and 600 yard paper shoots are on the newly- remodeled rear benchrest range, third and fourth Saturdays of every month.
Starting this Fall or early Winter we plan on scheduling some IBS sanctioned 600 matches.
Keep checking our club website for formal dates.
Light gun, heavy gun, any gun …we should have something for you. What is important is you. Stop by one or all of those three Saturday events each month and see what might be there. YOU are why we do it.
Larry Malinoski