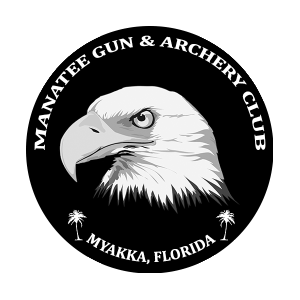 Thank you for your interest in joining the Manatee Gun & Archery Club. Members enjoy a greatly reduced range fee, discounts on ammo, and the opportunity to vote/run in club elections. We also regularly send emails announcing upcoming events to all of our current members, and regularly update our Facebook page.
Note: We are a National Rifle Association Affiliated Club. As such, NRA Membership is required for all members.
Already a member? Click here.


Not a member yet? Click here.

We look forward to seeing you at the range!
New Member $250 for first year
Includes $50 initiation fee
Probationary for first 3 months
After 3 months converts to Regular Membership
Regular Member $200 yearly
All member benefits and discounts

Voting privileges and may hold office

Extended Regular Member
Additional Adult New Member $100 yearly
Must reside in the same household as New Member
$50 initiation fee does not apply
All member benefits and discounts
Probationary for first 3 months
After 3 months converts to Regular Membership
Associate Member $50 yearly
Adult 18-24 years of age
Must reside with primary Member (New or Regular)
All member benefits and discounts
Probationary for first 3 months (only applies to New Associates)
No voting and unable to hold office
Junior Member $50 yearly
Under 18 years of age
All member benefits and discounts (as age appropriate)
Probationary for first 3 months (only applies to New Junior Memberships)
No voting and unable to hold office
Must be accompanied by responsible adult
 * Sales Tax is not Applied to Membership, Renewal, or Initiation Fees
Download & Print the  MGAC Membership Application 2018
Fill out the application (remember to include your NRA member number)
Mail in or Bring in your application and payment* to:
Manatee Gun & Archery Club
1805 Logue Road
Myakka City, FL 34251